Sportibles & Zonkers Hours
hours may vary
Sportibles and Zonkers are still open. Hours may vary! Check with stores for exact daily hours.
Gifts & Decor Grand Opening at New Location
August 1, 2015
Our former Tenant, Gifts & Decor Swords and More, will have their Grand Opening at their new location at 123 S. MurLen Rd. in the Crossroads Shopping Center (Santa Fe & MurLen). There will be Free Give-a-ways and 30% off of EVERYTHING IN THE STORE!. Stop by and check out their new location!
B&B Theatres Hours
7 days a week
B&B Theatres (formerly Dickinson) is OPEN 7 DAYS A WEEK. Check theater or online for showtimes!
Driver's License Bureau Hours
7:00am - 5:45pm
The Driver's License Bureau is open from 7:00am to 5:45pm Monday - Friday. You must be inside the DMV no later than 5:30 to be accommodated that day.
Toys R' Us
Save on Playroom Fun & More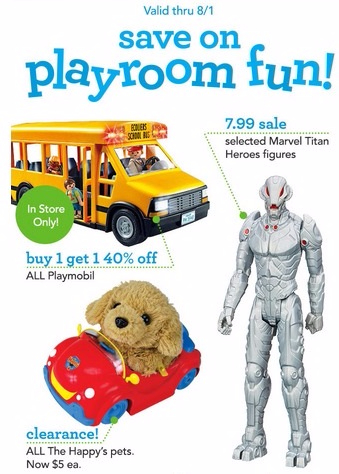 Stop by and enjoy big savings on playroom fun, Disney princess & more in store!
No rain checks. Prices, offers and exclusions may vary by store. The refund value for each item returned will be reduced to reflect the value of a free item or discount. Interim price changes may have occurred. Select items, styles or events may not be available at all locations. Toys''R''Us reserves the right to limit quantities. Exclusions apply. See a Team Member for additional details.
[More...]